Looking ahead to the trends that will shape the coming year is a critical exercise for any business. But in 2021, this is perhaps more significant than ever. Consumer behaviour has been transformed as a result of Covid-19, as many shifts in behaviour have accelerated. This blog post summarises 5 key trends from our latest report Consumer Trends in Asia: 2021
Vocal for local – Consumers are looking to support brands closer to home
Looking for action – Consumers want to see brands having a positive impact on the community
Racing towards a digital future – Online shopping is booming, ushering in new innovation
Seeking value – Consumers are prioritizing value and saving more
Health is wealth – We're seeing a marked change in diets as consumers focus on health
Read the summary below or download the full report to learn more about consumer trends in Asia in 2021 and what your business can do to capitalise on them. It's packed full of insight and analysis from local experts across our 8 Asian offices – China, India, Singapore, Thailand, Vietnam, Indonesia, the Philippines and Japan – and contains inspiring examples of brands successfully tapping into these trends.
1. Vocal for local – Consumers are looking to support brands closer to home
The economic turmoil of Covid-19 has made consumers more conscious than ever of the impact of their purchase power. In light of this, we expect one of the big consumer trends in Asia in 2021 to be supporting local brands.
In some markets this is manifesting itself in a wave of support for national, rather than global brands. India and China are two markets where this is happening. In India, Prime Minister Modi's strategy to aid economic recovery in the country is to focus on local manufacturing and supply chains and to encourage Indian consumers to support Indian brands. In response local brands have leveraged this messaging in their marketing campaigns, further promoting the concept. In China, we also see consumers looking to purchase from homegrown brands rather than global companies. This trend was already underway, due to international trade tensions and the growing popularity of Chinese brands, but it has been accelerated further by Covid-19.
In other Asian markets, we're seeing the emergence of hyper-localisation. Now spending more time at home and recognising the companies that helped them during the height of the pandemic, we are seeing consumers looking to support businesses in their local neighbourhoods through challenging economic times. This is very much a continuation of the behaviours of the behaviours we saw at the onset of the pandemic. In Japan, for instance, the 応援消費 (consume to support) movement went viral, and whilst in Indonesia, consumers were encouraged to #belidariteman (buy from a friend). This sentiment is likely to be important in 2021 and beyond, particularly in the food and drink industry as our research Understanding the impact of Covid-19: Food industry trends for 2020 and beyond indicates. When asked which of the behaviours they'd adopted in the pandemic that they'd continue in future, 42% of Asian consumers told us they plan to continue supporting local food and drink brands, the second highest of any behaviour.
2. Looking for action – Consumers want to see brands having a positive impact on the community
When we think ahead to 2021, we mustn't underestimate the impact of the pandemic. Covid-19 has caused many people to reconsider what is important to them and this has extended to their relationship with brands. Our Brands Exposed research, exploring how Covid-19 has changed expectations of marketing and brands, found that 63% of Asian consumers think that brands need to re-evaluate their role in society in a post-Covid world.
There's also an expectation that brands need to do more to support the communities they serve, a trend that is more prevalent in Asia than it is in the West. 63% of Asian consumers believe that organisations have a responsibility to contribute financially to their communities, compared to 43% in the US and 51% in the UK. They're also appetite to see brands going further, leading meaningful initiatives in their communities – 58% of Asian consumers believe this to be importance, compared to just 41% in the US and 46% in the UK.
So what does this mean for brands looking to make their mark in Asia? One thing's for sure – brands need to be prioritising actions over words, providing evidence of the steps they are taking to make a difference and the impact that this is having. And this isn't just confined to the B2C space. Our recent work with Bloomberg understanding the attitudes of business decision makers across 6 markets in Asia and Australia found that 56% are looking for brands that are protecting the underprivileged and vulnerable and a further 56% want to see brands using their resources to give back to society.
Free report
Consumer Trends in Asia: 2021
Download the full report to learn how 5 key trends are playing out across Asia, the implications of this for businesses and success stories of brands successfully capitalising on the trends:
Download now
3. Racing towards a digital future- online shopping is booming, ushering in new innovation
Seismic regional and global events have often act as a catalyst for behavioural change and innovation – and Covid-19 is no exception.
In response to regulations, businesses and consumers have adopted online solutions at a rapid rate. In some markets like India this has been accompanied by governmental action to provide digital connectivity in remote rural areas and to low income groups, enabling the delivery of basic services during this time. As such, some demographic groups have experienced the benefits of online shopping for the first time.
Others, already accustomed to shopping online, are doing this more and spending in new categories such as grocery and personal care according to a survey of digital consumers in 6 Asian markets from Bain and Facebook. The research suggests that this represents a permanent shift in behaviours. 83% of those surveyed said they are likely to continue increased spending online after the pandemic. These behaviours aren't just confined to younger people. There are significant numbers (35%) of older people – aged 55 and over – that share this sentiment.
In response to the rapid growth of online shopping we're seeing innovation in this space. From shopstreaming in China to a new breed of influencers in Japan, you can read more in the full report.
Get regular insights
Keep up to date with the latest insights from our research as well as all our company news in our free monthly newsletter.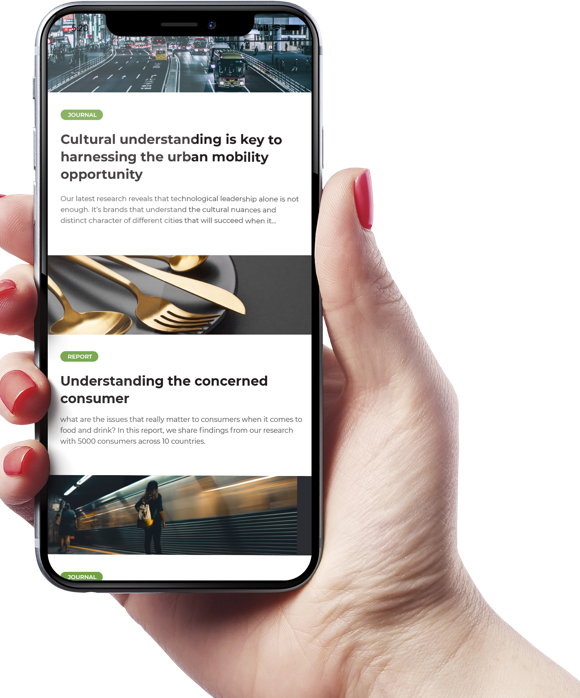 4. Seeking value – Consumers are prioritizing value and saving more
The Bain and Facebook study also provides interesting insights into consumers' attitudes towards personal finance in this period. 57% of the consumers surveyed are prioritising value for money in their purchases. They are also saving more. The study found that 60% are planning to put more money aside in future and that Asian consumers are two times more likely to start saving more after the crisis than their American counterparts. We see this reflected in our own data, as consumers cut back on non-essentials in Thailand.
Against this backdrop, companies across all sectors will have to work harder to get consumers to part with their cash, clearly articulating the benefits and value of their products, and focusing on building customer loyalty to avoid switching.
5. Health is wealth – We're seeing a marked change in diets as consumers focus on health
Health has been a big focus in 2020 and we expect this to continue, with it being one of the big consumers trends in Asia to watch for 2021. Our research with Bloomberg reflects this, with 67% of business decision makers across Asia and Australia telling us that taking care of their personal and family's health is more important than ever.
This is playing out in a number of ways, first and foremost in diets. Our report, Understanding the impact of Covid-19: Food industry trends for 2020 and beyond, found that 59% of Asian consumers believe that what they eat and drink has changed from the better, with only 6% stating their diet has changed for the worse. This represents a marked difference to Western markets – where just 24% of Americans and 34% of Brits believe what they're eating has improved. In line with this renewed focus on health, the majority of consumers are also cooking more for themselves and consuming more fruit and vegetables than before the onset of the pandemic. This indicates a opportunity for food and beverage brands to develop healthier versions of their products and support consumers in cooking healthy meals from scratch – be that through recipes or product launches.
But health goes beyond just diet. There's also a greater emphasis on fitness and on mental health, with PwC reporting that in China, 87% of consumers are focused on taking care of their mental health. There are numerous opportunities for brands to support consumers in these areas, which we analysis in detail in the full report.
To learn more, download the full report: Consumer Trends Asia: 2021
To learn more about how these trends are playing out in each market, our analysis of the implications of these trends and success stories of brands making inroad in these areas, download the full report.
Alternatively, if you'd like our support in understanding the changes taking place in your key markets and how you can capitalise on these, please get in touch.