Free report
Consumer trends in Asia: 2021 – the essential report
.
New research from Kadence International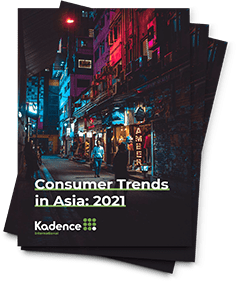 Consumer trends in Asia: 2021
Looking ahead to the trends that will shape the coming year is a critical exercise for any business. But in 2021, this is perhaps more significant than ever. 
This report is specially designed for companies looking to grow their presence in Asia and is based on the analysis of local experts across Kadence International's 8 Asian offices.
Download the report to learn how 5 key trends are playing out across Asia, the implications of this for businesses and success stories of brands successfully capitalising on the trends:
Vocal for local – Consumers are looking to support brands closer to home
Looking for action – Consumers want to see brands having a positive impact on the community
Racing towards a digital future – online shopping is booming, ushering in new innovation
Seeking value – Consumers are prioritizing value and saving more
Health is wealth – We're seeing a marked change in diets as consumers focus on health