Free report
Brands Exposed – what consumers want to see from your marketing as they emerge from lockdown
.
New research from Kadence International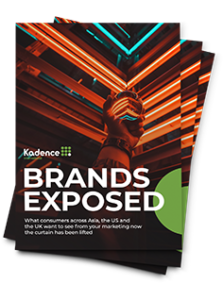 How should you position your advertising as consumers emerge from lockdown with new expectations of brands and a different lens on marketing?
In this report, we'll share the key learnings from our proprietary study, Brands Exposed, with over 4,000 consumers across the UK, US and 8 Asian markets.
We'll reveal
The messaging consumers want to see from brands in this period as well as what they reject
The ads that are really resonating with consumers based on our Emotional Connection Matrix and what we can learn from them
The pitfalls to avoid
The cultural differences that brands need to consider to succeed in different markets
How evolving anxieties about COVID-19 are influencing consumers' reactions to ads, and what this can tell us about projecting future ad success