At Kadence, our global footprint and cultural diversity mean we often celebrate significant cultural festivities. This year, we celebrated Chinese New Year by sharing our New Year's resolutions with one another – celebrating everyone's positivity for the year ahead.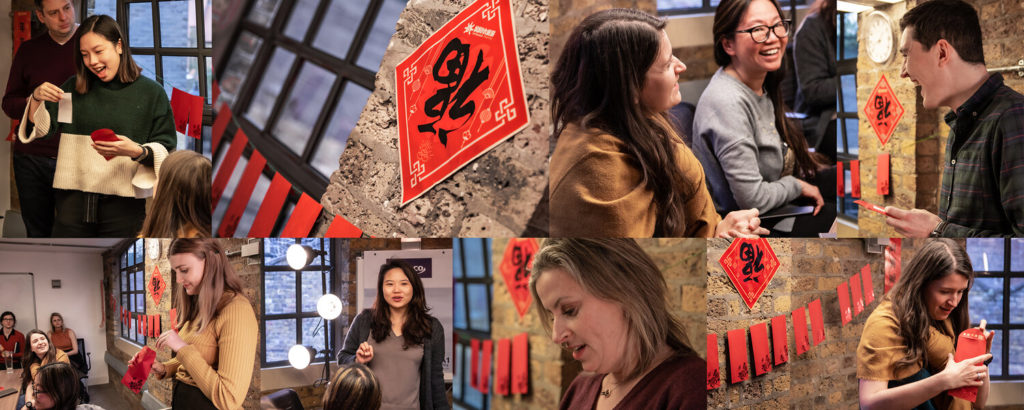 Chinese New Year is the equivalent of Christmas in the West, the 15 day long holiday opens up a wealth of opportunities for brands. According to China's Ministry of Commerce, Chinese consumers spent $149 billion across the holiday in 2019. This is the time of the year when spending and travelling peak on a phenomenal scale. This blog post explores the trends around spending and travelling, and what this means for brands.
GIVING MONEY & GIFTING IS BIG BUSINESS
We know from our extensive work in China that gifting is a big part of the country's culture – the extent of this was brought to life on a project where we interviewed High Net Worth Individuals (HNWIs) in China who buy luxury mobile phones as presents for business partners.
At Chinese New Year, gift-giving turns into cash-giving. Money is traditionally given in red envelopes to friends and relatives as a gesture of good fortune. Over the past few years, the Chinese are sending red envelopes as digital cash gifts via China's top messaging app, WeChat. The app has 400 million users, evolving from a basic chat app like WhatsApp into a platform that includes e-commerce, taxi-hailing, payments and more.
Traditionally, one would only give red envelopes in person, but technology has made it possible to send money to just about anybody. Last year, over 14 billion 'red envelopes' were shared between WeChat users on New Year's Eve alone. The chart below from Statistica shows the dramatic increase in exchanging digital red envelopes on WeChat over the past few years.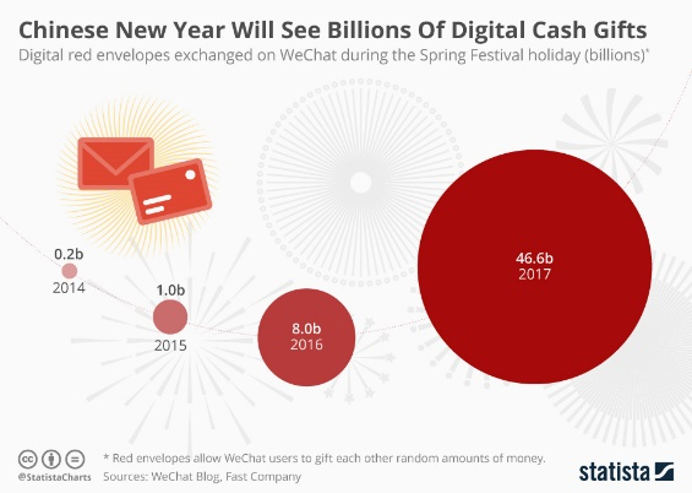 WHAT DOES THIS MEAN FOR BRANDS?
If consumers are sending money digitally on WeChat, could gifts be sent digitally too? Starbucks China has since tapped into this behaviour, where one can buy a friend a coffee which can be redeemed at any Starbucks store. WeChat's existing infrastructure and vast user base offer a platform for brands to extend their offering from in-store and online to social media. Who wouldn't want a McDonald's or even a luxury candle from a friend 750 miles away?
BIGGEST ANNUAL MIGRATION OF HUMANS
Chinese New Year is the biggest annual human migration in the world, with 2.5 billion trips made each festive period. This includes workers seeking employment in large affluent cities or university students returning to their rural hometowns to visit relatives.
We have seen this first hand from conducting a study with Didi (a Chinese Uber equivalent) drivers for a major fuel and energy provider. Didi drivers save up holidays and money to travel home in order to spend quality time with their families, after a year's hard work.
Get regular insights
Keep up to date with the latest insights from our research as well as all our company news in our free monthly newsletter.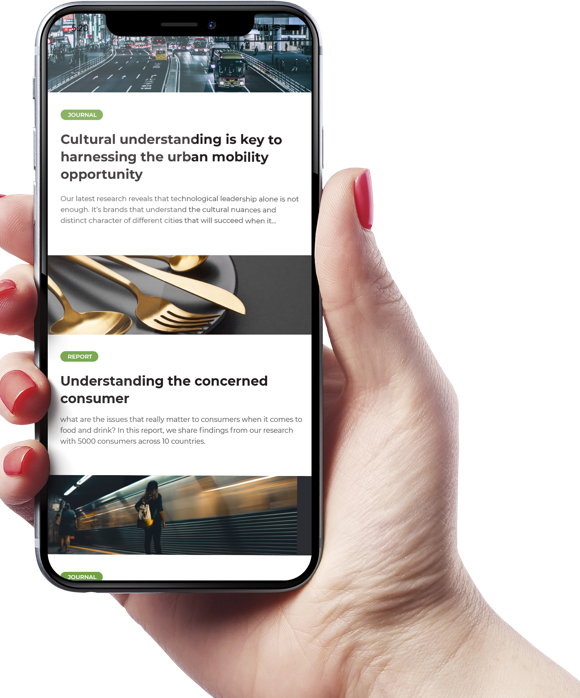 WHAT DOES THIS MEAN FOR BRANDS?
The vast distance and traveller volume associated with this phenomenon present some interesting opportunities for brands, and not just in the state-funded transportation industry.
The average individual journey taken at Chinese New Year is 255 miles, which makes us wonder how consumers spend all that time? Can entertainment or gaming brands tap into this 'lost time'? What are the implications of all this screen time for advertisers, for example, adverts on China's biggest streaming platform Tencent Video.
Or how can convenience food, snack, or drink brands capture share of wallet on these long journeys? Perhaps a new variant of existing products to fuel on-the-go consumption would fill the gap?
A WORLD OF OPPORTUNITIES
One of the most interesting aspects of conducting research in China is bringing the cultural nuances to life for our clients. We like to immerse ourselves in the world of the end consumers by being there in person. Whether it's discussing career goals with accountants or exploring the luxury needs of HNWIs – we believe conducting the qualitative explorations ourselves yields the greatest insight.
We've had some wonderful opportunities to solve and advise global clients on business issues, from tackling regional differences to evaluating potential Chinese brands as a joint-venture partner. This market continues to surprise us on a daily basis. There is so much we are yet to explore as global brands tap into the world's fasting growing economy.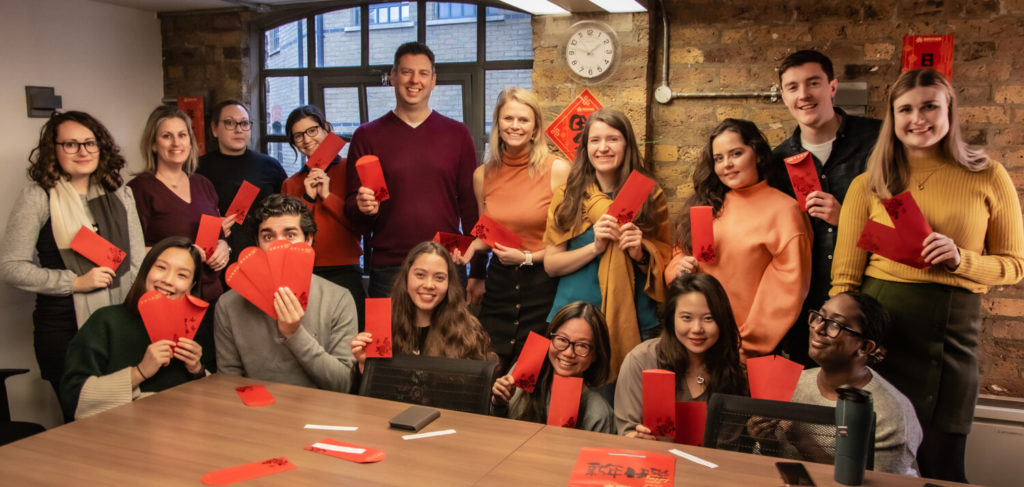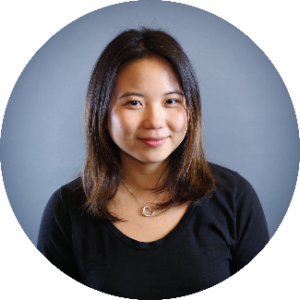 About Amy
Amy has worked at Kadence for over five years having previously worked in Millward Brown Taiwan. Born and raised in Taiwan, Amy is bilingual in Mandarin and English. Amy sits in our London office, often travelling to China to explore the market on the ground.
Her language and insight skills make her the perfect candidate to broach the gap between UK clients and Chinese consumers (or vice versa). Effortlessly interpreting Chinese consumer voices and turning them into to actionable insights for UK clients.
You might also be interested in