Many global economies are defined by stagnant growth, falling populations and saturated markets, making growth for brands a tricky proposition. In many 'emerging markets' there are still big opportunities grow… if you keep your eyes open.
Many businesses are looking to fast-growth, high-energy markets outside the so-called 'developed' economies to fuel their expansion. Unlike congested and sometimes shrinking economies in 'the west', many parts of the world are seeing rapid population growth, fast-rising incomes and are adopting transformative technologies without the burden of legacy investments. The result? Vibrant new opportunities for businesses.
But while entering any new market is a challenge for brands, moving into these more dynamic economies – often with very different cultures, business practices and consumer expectations – can be particularly tricky. Berlin isn't the same as Birmingham, but many of the norms in both markets are recognisably similar. Head to Beijing or Bamako, and the assumptions you make about brand, product and business practices will be challenged.
Take a phased approach to understanding the opportunity afforded by new markets
The best way to understand your opportunity in different markets is to take the traditional phased approach to research. This involves the following considerations.
Which markets might we look at? Consider the number of consumers, the country's income levels and the stability of its economic and political structures. You can also examine the maturity of business practices and think about geographic location, transport links and accessibility in-market.
What's the macro environment like in a market we want to enter? Revisit all the above, in more detail. Focus on specifics – such as the transport and tech infrastructure; and business support networks (such as accounting firms or legal protections on IP) – and how the trends are evolving in those areas.
How does the competitive landscape affect its attractiveness? Pay attention to other outsider brands and how they're doing; but also domestic rivals and potential competitors poised to move into adjacent markets.
What are the practical issues for market entry? In new markets further afield, transport links, language barriers, different cultural norms and local regulations can throw up roadblocks.
How do we adjust our product, service or messaging to optimise our offer there? As above, but remember that very different cultures and climates can challenge even the most basic assumptions about how a product will perform.
Step away from the generalisations
It's vital to acknowledge that 'emerging markets' aren't as uniform as the term suggests. Far from it. There are so many variations by region or category that talking about common features of 'emerging markets' is a dangerous over-simplification. And there are as many differences within countries as between them. This particularly true in countries where rapid urbanisation has seen a break with traditional cultures outside cities.
(That's true for any generalisation, of course. Alcohol brands, for example, can't even treat the US and Canada the same. North of the border, there are drinking-age laws set province-by-province, massively complicating online alcohol sales. They might look the same in terms of development and even geography and demographics. But they're not.)
That's not to say there are no rules that apply to entering markets that share particular attributes. The pace of economic or population growth, or the expansion of middle-class consumers with disposable income, might always be a feature of your selection process for target markets.
But in many categories, consumption is growing so quickly that only the real beneficiary of a 'toe in the water' market entry is likely to be knock-off brands and domestic substitutes able to adjust output more responsively to local conditions, especially where legal protections for intellectual property are less secure for global players.
All these caveats mean that in-depth research into new-market consumer appetites, infrastructure and competition is just as important in growth areas as it is in more mature markets.
Get regular insights
Keep up to date with the latest insights from our research as well as all our company news in our free monthly newsletter.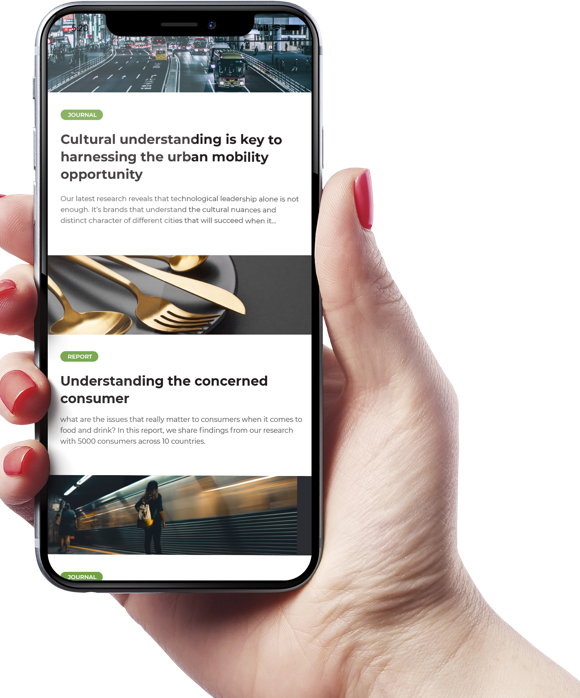 Assessing new markets – 5 key considerations
All that being said, knowing the likely biggest points of difference when entering markets with strikingly different fundamentals is still important. Five things to consider:
1. Affordability
In many emerging markets, disposable income may be much lower for large parts of the population. For global products, that means understanding the more affluent segments better and targeting marketing appropriately. For localised or commodity products, the question is cost. Can you use local manufacturing, logistics and even branding to deliver your product to a mass market?
2. Distribution
Getting product to consumers might be more challenging. For brands that rely on developed economy logistics partners, understanding infrastructure constraints, developing local contacts and ensuring quality of service is crucial. When Haagen-Dazs first entered China, it set up its own warehouse and delivery network to ensure the product reached consumers correctly.
3. Localised branding and marketing
What works well in Boston, may not succeed in Beijing. Cultural understanding is key to ensuring that your marketing and branding hit the spot further afield. Caveat: remember the urban/rural split. Many urban consumers are 'world citizens' and expect to be treated as such.
4. Watch for local rivals
The cachet of being a global brand can help enter emerging markets. But cost, customisation and the risk of 'brand colonialism' can make more assumptive Western brands seem out of touch and vulnerable to local alternatives.
5. Native teams
As a global market research agency, we benefit from having local teams in the markets we evaluate for clients. This means we understand the cultural context, consumer trends and broader macro situation. It is possible to enter emerging markets at arms' length. But having local people in decision-making positions is the surest way to avoid clumsy cultural or operational missteps.
Look for leapfrog opportunities
There are plenty of upsides to emerging markets, too, beyond simply vast numbers of new customers. In some cases, our research will throw up opportunities that just aren't available in mature markets at all.
Look at the way different platforms have developed to cater to the nuances of local markets, for example. In many fast-developing economies, traditional channels have been leap-frogged by the adoption of newer technologies. This often happens where older tech infrastructure has attained much less penetration, allowing a newer tech to fill a void.
In many African countries, for example, low population density and long distances between conurbations means traditional copper or fibre telecoms can be limited. But mobile telecoms are more practical and affordable. They offer a plethora of additional over-the-top services that have led to an e-finance and e-commerce boom. Entering those markets will require different thinking about distribution – as well as marketing and payments using creative local solutions.
Remember, e-commerce is not the same everywhere
The Philippines is another good example. In other countries, Facebook might be just part of your online marketing toolbox. But there, Facebook has attained an absolutely dominant position in e-commerce – for one simple reason. With lower average incomes, Facebook and local mobile companies realised their penetration was constrained by the cost of network data. So almost every plan has free Facebook data regardless of contract status. For market entry success in the Philippines, Facebook is going to play a big role.
But we need to distinguish between being available on those platforms on the one hand; and entering a market on the other – which involves boots on the ground. Yes, that's more investment. But you're also surrendering less of your margin to platform owners and logistics providers.
A staged approach to entering less well-understood markets, starting with the more popular local social networks or e-commerce platforms, allows you to refine the consumer profile. Companies also get time to get to grips with the legal and financial frameworks that might shape future involvement; and see how local fulfilment clarifies their operational options.
Don't assume that tried and tested e-commerce strategies from the US and Europe will work everywhere in the world, however. Amazon, for example, simply doesn't have a presence in some markets. In others, consumers can use the site, but limitations on distribution and other logistics mean delivery times, cost and availability are prohibitive. Local research about the best platforms for reach and fulfilment is a must.
Lazada, Shopee, Zalora and Carousel, are some of the top e-commerce sites in South East Asia. These names may not be familiar to firms outside the region. But they can play a crucial role for testing in these markets. Again, it's worth working with people who understand how to optimise those platforms, as well as interpret the effectiveness of marketing on them; and what the results say about the potential for deeper market entry.
Understand the technicalities of new markets
Even online entry into a very unfamiliar market can be daunting. Moving in for formal distribution, licensing or agent agreements or even setting up locally or buying into a native business brings with it additional issues that need to be researched.
European companies with experience of entering new markets in the EU can find the regulatory and legal considerations in countries farther afield a challenge. Even in the US there are federal laws and individual state regulations over companies and property to contend with. This can make establishing a new business relatively tough. And that's considered a 'developed' market.
In parts of South East Asia, many European companies report lengthy delays in registering businesses. Others discover that in some markets domestic firms have particular benefits. This could be a form of protected status, or reserved access to certain kinds of contract. This is worth exploring in due diligence especially if you plan to sell to government agencies that are often required to 'buy local'.
Don't make any assumptions
Most of the key factors for market entry will depend on exactly which market you're looking to enter. There are very few hard and fast rules that apply across the generalisation 'emerging markets'.
But there is a common theme from this guide that should frame your thinking: these markets change – fast. Before committing to entering any market – and especially ones evolving so rapidly – it really pays to research the opportunity fully. This is something that Kadence has helped many clients with, allowing companies to succeed in lucrative emerging markets. Find out more about our market entry services, or get in touch to discuss a project.