This summary of the report, "The Asian Consumer: 4 Key Trends for the Next Normal," examines the purchasing trends, consumer characteristics, and brand preferences of major Asian markets that embody a unique national and cultural identity.
If you want to grow your company's presence in Asia, make sure you read the full report here.
This report is based on the analysis of local experts across Kadence International's eight Asian offices: China, India, Singapore, Thailand, Vietnam, Indonesia, the Philippines, and Japan.
In this summary, let's look at how four driving forces are changing the consumer landscape in major Asian markets.
Read the full report to determine what drives consumer interest and engagement in individual countries in the region.
Trend One: Changes in food and shopping patterns
Since the beginning of 2020, wet markets have taken a hit in popularity and accessibility throughout the Asia Pacific region, just like the rest of the world. This trend is unlikely to change substantially in the coming years, and therefore, Asian consumers are starting to look for food and grocery alternatives.
Read the full report to learn more about the impact of COVID19 on wet markets across major South Asian countries, including China, India, the Philippines, Vietnam, Singapore, and Indonesia.
There is a burgeoning demand for meal kits and prepared foods. Asian consumers are lured toward meal kits not only due to their convenience and simplicity but also the healthy food options and the high-quality food products included in these popular "Next Gen TV Dinners."
Read the full report to discover the key players in the Meal Kits market in China.
While most industry experts don't predict the demise of wet markets and wildlife trade any time soon, changes in Asian consumer behaviors and preferences in what food they eat and how they purchase it continue to evolve.
Adopt a Cow, a new entrant in dairy within China, capitalized on these changes to capture the dairy market that two leading Chinese dairy brands previously dominated. Adopt a Cow connected with China's consumers in a way that spoke to their evolving tastes and behaviors.
Read this intriguing case study to discover how this new dairy brand broke into the market and faced its competition head-on, ultimately becoming the leading dairy company in China.
Trend Two: In the age of Zoom, work from home has altered how we work and live at home.
The WFH employment trend is destined to stay in some form well into 2022 and beyond. Even after the pandemic, the Asian workforce will continue working 80% from home in some hybrid form. For Asian consumers, this translates into not just the way they work, but even more so, a new relationship with the space in which they now both live and work.
Unlike workers in both China and Japan, employees in India prefer video conferences rather than in-person meetings. It is also interesting that companies in Asia do not embrace remote working options for their employees as readily as businesses in the West.
Japan has some of the lowest WFH employees in all of Asia. Like many households throughout the region, Japanese remote workers deal with small, overcrowded home environments and cramped spaces that are less conducive to productivity. In many parts of Japan, space has always been tight and comes at a premium.
Savvy homebuilders in Japan knew it was time to rethink the Tiny House model into Tiny Home Office structures.
Read the case study to learn how a real estate company found a market among those struggling to work in tight spaces at home with Tiny Home Office.
Get regular insights
Keep up to date with the latest insights from our research as well as all our company news in our free monthly newsletter.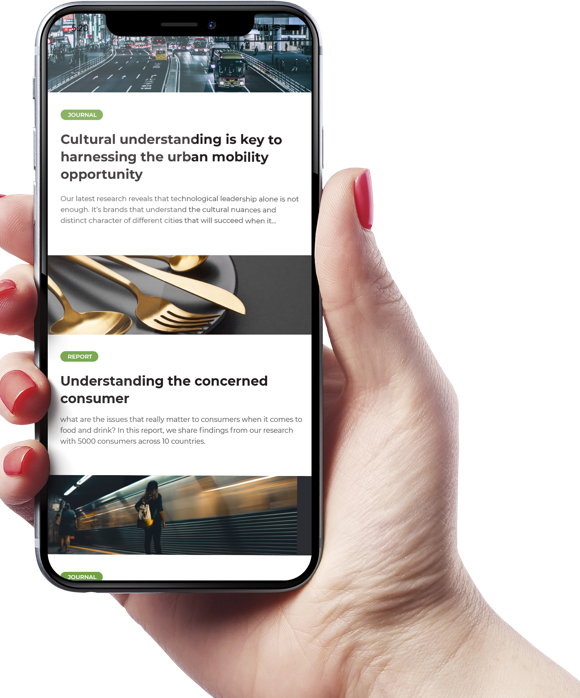 Trend Three: Gen Z and the demand for customizable consumer goods.
Gen Z is poised to set market trends for many years to come.
According to McKinsey & Company, Asia's consumerism is rapidly growing and expected to reach 3 billion by 2030, a 50 percent increase from today's consuming class.
Discover how the convergence of personalization and social media influencers drives consumer engagement for Gen Z Asian consumers in the full report here.
To build a personal brand on TikTok, Gen Z Asian consumers feel the need to create a unique personal online identity. This is why they gravitate toward products that allow room for personalization, customization, and exclusivity.
While many major luxury brands have jumped on the customization trend, the best example of the popularity of personalization comes from a rubber shoe company.
Learn how Crocs exploded in the Asian Marketplace through customization and celebrity influencers.
India is among the top five nations globally in beauty and cosmetics manufacturing and distribution. Mass beauty in India possesses a market value of more than $11 billion, with an additional $3 billion if you add hair care and personal hygiene products. There is also a growing market for customizable beauty products.
Discover the exceptional opportunities for industry innovators entering the Indian beauty market in the case study when you download the full report here.
Trend Four: The rise of Electric Vehicles. 
China is the global leader in electromobility, with a 5.75 percent market share of electric cars in the Asia Pacific region.
Even though September 2021 car sales in China took a 17 percent dip year over year, electric automobile sales in the country trended up with a jaw-dropping 355,000 registered electric vehicles that month. The year-over-year growth rate was more than 170 percent, and these Chinese consumer buying trends are expected to continue to grow well into the future.
Japan is lagging in this category with a 0.64% market share. India follows Japan occupying the seventh position with a relatively low 0.06% market share.
On the other hand, Singaporean consumers welcome the onset of the age of electric cars.
Sales of Teslas in Singapore have also substantially increased throughout 2021, rising from just 30 cars sold in the first six months of the year to nearly 500 in Q3 alone, even though these cars cost more than three times the cost of the US sticker price.
Read the full report to discover EV trends and consumer demand in all major countries in the region.