Digitization has reset the online shopping game board, and the pandemic has accelerated technology adoption by both brands and consumers. Today, the most successful retailers have adopted technology at warp speeds. With breakthrough technology complementing every step of the retail process, where are we headed?
Download our complete report, "The Future of Online Shopping," to find out.
Here's a summary of the most significant trends shaping the future of online shopping worldwide.
Trend 1: The Future is 'Phygital' — Reinventing the retail experience.
At the intersection of physical and digital is a connected retail environment where consumers are placed at the centre. In this consumer-centric, channel-agnostic, connected environment, consumers can buy online and pick up from stores.
They can try clothes and accessories virtually, in-store or online, browse large touchscreens for product information, dispense products from vending machines, and even scan an aisle in a grocery store to view an overlay of information about products.
The future of retail is omnichannel, an approach providing customers with
a unified shopping experience. This approach connects experiences across multiple touchpoints, including brick-and-mortar, web, and mobile apps.

Discover how Singapore's NTUC grocery chain increased retention and repeat business using an omnichannel approach.
Get regular insights
Keep up to date with the latest insights from our research as well as all our company news in our free monthly newsletter.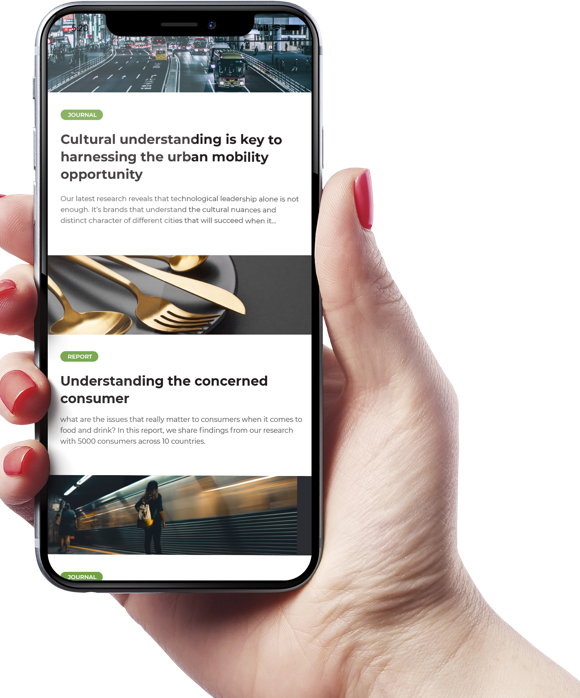 Online Financing Options – "Buy-Now-Pay-Later."
Retail brands are removing barriers to make the shopping experience as frictionless as possible, including easy financing terms.
Apps Making Online Shopping Seamless.
Mobile apps offer retailers an engaged audience they can easily connect with to sweeten their shopping experience, building loyalty and driving in-store sales.
Download the complete report to discover how Shopee, the leading eCommerce online shopping platform in the Philippines, Taiwan, Thailand, Singapore, Malaysia, Indonesia, and Vietnam, and Sephora, a multi-brand beauty retail store, leading the way in making the shopping experience seamless.
Trend 2: DTC brands are booming worldwide.
Direct-to-Consumer (DTC) has disrupted the eCommerce industry. As more brands manufacture, design, market, sell and ship their products directly to customers, they are more agile than traditional brick-and-mortar retailers.
Download the complete report to learn how Nike tapped into the DTC space along with other legacy brands.
Social media advertising significantly contributes to DTC sales; however, rising ad prices damper many of these brands.
Download our report to discover how DTC brands target users in a cookieless world.
Also, learn how a home-grown Vietnamese DTC start-up raised USD 2.3 million in the middle of V.C. winter in the country.
Shein, another DTC brand based in China, adopted and perfected its business model and developed a massive, vibrant, international community around Shein with a customer-centric approach.
Download our report for the complete case study and discover how Shein has tapped into a massive international market of online fast fashion shoppers in the U.S., Europe, the Middle East, and other big consumer markets.
Trend 3: Influencers are the new sales associates.
In a crowded digital space, where media consumption is highly democratised, brands seek attention by creating entertaining content that moves the audience.
Consumers are now in charge — and rather than listening to brands, they listen to peer-to-peer advice on products and services. Consumers are increasingly filtering content, ads, and posts that reek of brand promotions in favour of posts and promotions from people they trust, a.k.a. Influencers.
So who are the top Instagram influencers right now?
Download our report to find out who owns the top spot for earnings per paid promotion, and learn how Kim Kardashian sold 150,000 bottles of perfume within minutes on a live stream in China.
Trend 4: Personalizing the online shopping experience.
Customers have spoken. They don't just want personalization; they expect it from brands.
Research shows that when brands provide personalised experiences, 80 percent of customers are more likely to purchase. When brands personalise a customer's experience, they anticipate what they want and deliver it to them, increasing engagement, improving conversions, boosting customer loyalty, enhancing the experience, and gaining a competitive advantage.
Download our report to find out how U.S.-based grocery chain Kroger is delighting shoppers with next-level personalization strategies in our brand case study.
The future belongs to retail brands that master the omnichannel experience.
Consumers are tightening their purse strings due to inflation and the fear of an impending recession.
High prices of fuel and food are impacting consumer spending. It's time for brands to get more creative, and eCommerce sellers are in a favourable position to weather the economic downturn using competitive pricing software and data-rich touchpoints.
Download our free report to find out how top retail brands are globally navigating the new online retail playing field during these uncertain times.