Global manufacturing leaders are carefully considering the pros and cons of both.
China still leads the world in manufacturing, with close to 30% of the country's economic output coming from this sector. Many industry experts and leading economists believe that China will no longer be the manufacturing powerhouse it once was within the next five years.
How the pandemic changed the manufacturing industry
The global pandemic caused a notable decrease in manufacturing production in 2020 due to containment strategies in economic and social lockdowns. Both had a significant impact on both supply and demand.
Consumer demand declined overall due to uncertainties triggered by travel restrictions, remote working, business cessations, and job losses. At the same time, the production of many goods came to a halt worldwide for many months.
A shift away from Made in China
For some major manufacturing companies, the pandemic spurred a sea-change in where they manufactured their product. The American Chamber of Commerce in Shenzhen, China, surveyed its manufacturing membership and learned that over 30 per cent were in the process of moving some of its manufacturing out of China.
In July 2020, Apple announced it was shifting the assembly of its iPhone 11, the most advanced model in its product line, from China to India.
A couple of weeks later, Samsung and several other Apple suppliers applied for the Indian government's incentive program targeted towards large-scale manufacturers of electronic products, which would see a significant part of these companies' manufacturing transferred to India.
In recent years, China has attempted to replace the term "Made in China" with "Engineered in China": the country would no longer be known as the world's factory, a cheap place for countries to outsource manufacturing. Chinese manufacturers have increased automation and switched to using robots instead. In these instances, up to 80 per cent of workers were sent home and replaced with specialized production line workers — typically experts in machine maintenance and machine learning. Mechanised factories boast much higher output with fewer errors and accidents, and a higher dependence on technology and automation meant wage costs were no longer critical.
With these changes, China is slowly losing its foothold in the global manufacturing sector for reasons with nothing to do with costs and output.
Other factors affecting this shift also include; trade tensions between China and the US (along with its western allies), the realization by global manufacturers during the pandemic of the flaw in the supply chain delivery due to over-reliance on one country for production, increased costs, and tariffs, and consumer sentiment of products made in China.
Even so, manufacturing in China is expected to recover in 2021, growing by 9 per cent.
The growth in manufacturing in India
By comparison, India is expected to grow by 10 per cent, recovering from significant economic strain during the pandemic.
The average age of a citizen in India is 28 years versus 38 years in China. This country has a massive population, and the demand for technology is high. Manufacturing overseas is not always about importing; it is also about global supply. If you have a product that appeals to 20 somethings or 30 somethings, manufacturing locally in India makes sense.
India is a lot less controversial geopolitically, and the Indian government is poised to capitalize on that notion.
The government of India has launched several policies over the past few years to create a favourable environment and attract investment in manufacturing, with a focus on electronics manufacturing, including mobile phones, industrial electronics, consumer electronics, electronic components, computer hardware, and LED products.
Due to these commercially favourable initiatives, India's electronics production has more than doubled in the last five years (2015-2020). According to the Indian Ministry of Electronics and Information technology, India's electronics market is expected to reach US$132 billion by the end of 2021.
In China, manufacturing labour wages by location (in USD per hour) is $3.80 compared to India's 0.70. Even with China's focus on automation and robotics, labour in India is five times less than in China.
While the shift from solely or wholly manufacturing in China has seemingly begun, China will still be a global manufacturing hub.
Perception of manufacturing locale
Supply is synonymous with manufacturing. In economics, the rule of supply and demand states that if all other factors remain equal, the higher the price of a good, the fewer people will demand that good. For most, regardless of generation, price and availability are essential, if not the most important, in buying decisions.
However, in economics, "movements" and "shifts" represent different market phenomena concerning supply and demand.
In the past, companies chose to manufacture from an outside country due to price. Now other factors could negatively affect demand and brand perception.
Price, or cost of goods sold, is an easy measurement to evaluate in manufacturing. However, more and more companies see that consumer sentiment is a factor contributing to growth and demand.
Consumer sentiment is becoming an essential factor in manufacturing. After all, it does not matter how cheaply you can manufacture a product, whether that is in China or India, if the demand is not there or if consumers will choose a different, competitively priced product based on the manufacturer's location.
A key question a company should ask is whether consumers would feel differently and ultimately decide to buy a product based on a "Made in India" label versus "Made in China."
For Gen Z and millennials, these two generations are much more brand conscious. In one study, 62% of millennials surveyed said buying from brands that support their own political and social beliefs is essential. In another study, Gen Z consumers are more likely to switch brands that meet specific values like sustainability.
Get regular insights
Keep up to date with the latest insights from our research as well as all our company news in our free monthly newsletter.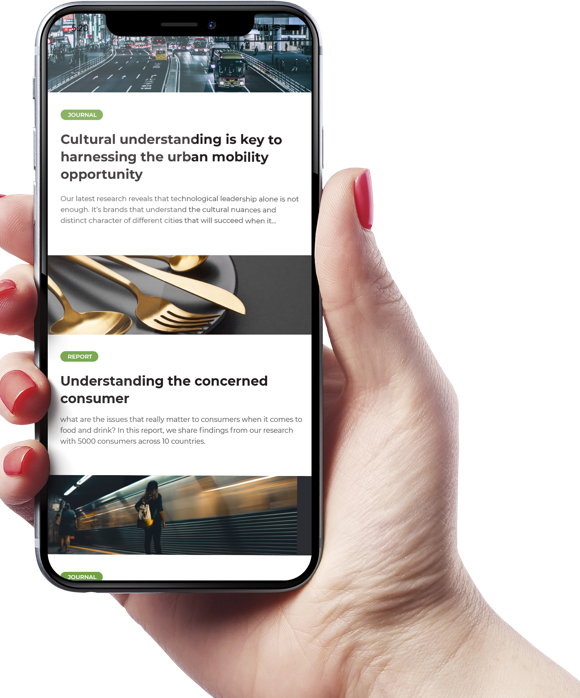 The role of research in manufacturing
Moving the manufacture of parts or components to multiple countries is a huge undertaking. Deciding to enter a new market, along with evaluating manufacturers, can be incredibly daunting if "on the ground" knowledge is limited or non-existent. Commissioning a research agency to find out where to direct your attention is a crucial first step. Selecting a research company with direct market knowledge can save time and capital investment.
Understanding how your target audience perceives where your product is manufactured, alongside any impacts on demand, should be researched and evaluated.
Read case studies from the Manufacturing sector here
You might be interested in