So you have a number of exciting concept ideas but you're not sure which to take into further development? This is where conducting online concept testing comes in.

Online concept testing is the process of evaluating product ideas with consumers prior to their introduction to the market. It can include both quantitative and qualitative research, via surveys and online communities, for instance.

It's a great way to bring consumer insights to the heart of the new product development process. These insights can help you understand which products or services will be a hit with your target audience. In this way, a concept test can dramatically reduce the risk of a product failing when it hits the market, helping to ensure a successful product launch.

Online concept testing can also point to areas of your concept that need tweaking, or new features which could be added. It can also help you answer questions such as whether the price is right and how where your idea fits in relation to competitor offerings and the perception of your brand as a whole.

But there is no one-size-fits-all approach, rather a range of methods that can be combined and tailored to meet the demands of each project.
What online approaches can you use for concept testing?
You can take either a quantitative or qualitative approach to concept testing – or combine both.
The main quantitative technique is an online concept test survey. Through online surveys, you can reach thousands of targeted and engaged respondents, providing rich and robust data that can be analyzed. In the survey, the concept test would involve consumers reviewing a text description or a visual representation of the concept. Then, the audience would be prompted to answer questions or to discuss their impressions of your idea.
Single-concepts can be tested through monadic survey design, whilst multiple concepts can be evaluated using sequential design (read more about this in our post on what concept testing is and why it's important). Once we have ascertained the level of interest or purchase intent data for each concept, these can be plotted on a chart to show which spurred the most promising response. We can also unpick the relative effect of different attributes such as price or features, with the help of a well-designed survey template, advanced statistical techniques.
When it comes to qualitative techniques, you can either run an online community – a carefully curated space to engage respondents in a group setting, as well as one to one tasks – or run a series of in depth interviews over video chat, in which you have the ability to share concepts on the screen.
What's the advantage of online?
Online surveys enable you to reach a representative sample to gather robust data quickly and efficiently.
Online qualitative approaches, like online communities can deliver more detailed feedback than you might get in person. The sheer quantity of comments in an online community is vast – providing a real depth of insight.
An added benefit of qualitative online testing methods is that they can enable you to test ideas in multiple markets at the same time, so you can identify and explore common themes, rather than having to run focus groups over a number of weeks to get feedback in each market.
Online concept testing best practice

Objectives first, methodology second
Try to avoid embarking on the research with a set methodology in mind. Instead take a step back and think about your objectives and where you are in the product development process. This will help you choose the right approach.

Ask yourself whether you require high-level responses to multiple concepts, or detailed feedback on one, in particular? Do you need qualitative inspiration or quantitative rankings?

Also think about how far along the development process you are. If you have a prototype of your concept that respondents can interact with it may be that an offline approach like a focus group could be more appropriate, whereas if your concepts are at an earlier stage, an online approach could be more valuable.

We tend to use a combination of testing methods to build up a picture of how products or services could fit into the lives of those you hope will use them – and we'll tailor the methods based on the project. Often, we'll work with clients to quantitatively test initial concepts to understand those with most appeal to the target market. This is often followed by an online community in which consumers help you hone your ideas further.

That said, it's always critical to build a tailored approach depending on what you're trying to achieve and who you're trying to reach. For instance, if you're looking to get feedback on new concepts from hard-to-reach, or B2B audiences, a digital in-depth interview could be appropriate.
Get regular insights
Keep up to date with the latest insights from our research as well as all our company news in our free monthly newsletter.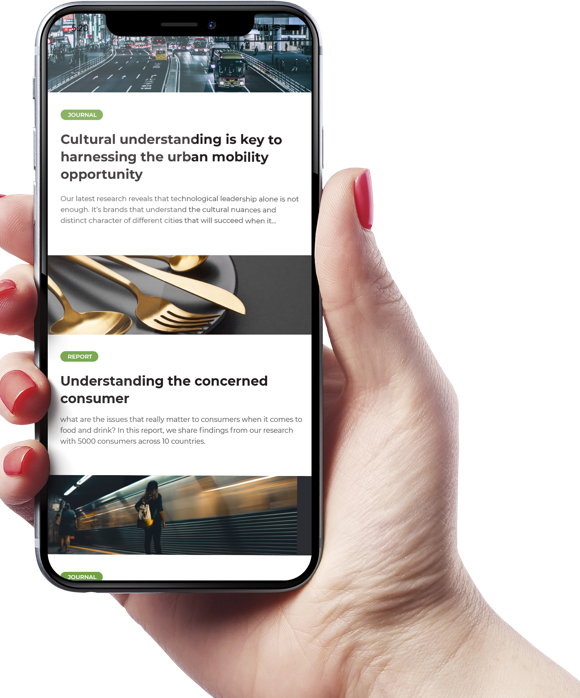 Choose the right tools
Many online community platforms are specifically built with concept testing in mind and have tools that allow respondents to mark up elements of a concept that they like or dislike, along with a justification.
But always ensure the agency you work with has the right security protocols in place to protect early stage ideas. The platforms we use include a number of built-in security features. Images can be watermarked with a unique respondent identifier and, if you're testing ads, we can set videos to self-destruct after they've been watched once. On top of this, we use all the confidentiality procedures we would for concept testing in-person. With such stringent processes in place, we've never experienced a leak. With us, your ideas are in safe hands.
Moderation, moderation, moderation
When you're testing concepts in an online community, it's important that conversation is carefully guided just as it would be in an offline focus group. Skilled market researchers know how to curate the conversation in an online setting, finding links between people and encouraging them to open up and feedback comprehensively on ideas.

Through a combination of effective moderation, probing and carefully structured analysis, we can identify the overall themes and elicit the information you need to move forwards in the product development process.
Bring ideas to life for consumers
To get the most out of respondents, it's also important that you bring concepts to life by creating stimuli that enable the target market to picture your proposed products or services. Often, the early-stage concepts we receive from clients are only roughly sketched out.
It might be a selection of words on a Post-It note, or a collage of images found online. We work with our in-house designers and copywriters to build on this, fleshing out concepts and designing mock-ups and prototypes to make sure that your initial ideas can be easily understood by consumers. After all, it's much easier to feed back on an idea you can properly visualize.

We use prototypes to bring ideas to life for consumers in face-to-face focus groups but one of the benefits of qualitative online concept testing methods, like online communities, is that these mockups can be amended based on consumer feedback and then fed back into an online community for further comment. This allows us to iteratively improve the concepts over time to build on and strengthen initial ideas.

At Kadence, we're taking this principle a step further by exploring how we can use augmented reality (AR) to further bring concepts to life, thereby eliciting higher quality insights. Through AR we can create 3D digital prototypes that consumers can place in real environments using their phone – in their home, in a supermarket, wherever they happen to be. Not only do immersive methods like this deliver richer, higher quality insights, but they allow you to test concepts in context, thereby overcoming some of the challenges of face-to-face approaches.

Finally, it might sound obvious but it's also important to ensure that your concepts are ready to be tested. It's better to delay an online focus group if your concept is not yet fully developed, nor its purpose clear. If your ideas are easily understandable, can be brought to life and readily understood, your participants will be able to provide more comprehensive feedback.

Rigorous research shows you whether you're really on to something. It puts everyone's ideas on a level playing field and can help companies navigate internal politics to find a path ahead. After all, it's your customers who will decide which idea is a success.

In this way, market research can dramatically increase the chances of developing a product concept successfully. Ultimately, testing is the process that enables you to proceed with confidence, and what can be better than that? We'd love to support your organization with concept testing research. To discuss the best way to test your new ideas – be that online or offline – please request a proposal.