Kadence International is an agency with a lot of talent from all around the world. In this series, we honor some of our female colleagues leading up to International Women's Day, asking them about their experience working within the market research industry and what the future holds for the industry.
Name: Ana I Pahler-Villaverde
Position: Sr Graphics Specialist
Kadence Office: USA
When did you join Kadence International?
I joined the Kadence Americas team in October 2021.
What are your role responsibilities?
I am responsible for creating marketing materials and supporting all teams with any graphics needs. I spend my days creating compelling marketing materials, creating visually attractive presentations while creating a compelling story.
What is unique about market research in the USA?
The USA is a melting pot. As MR helps us understand consumers, identify issues and solve problems, the variety of the "panel" makes the studies applicable to international markets, helping to avoid expansion mistakes and identify international business opportunities.
What was the first job you had (during school, college or university)?
My first job was during my last year of university. I tutored high school students in Math, Physics, and Spanish. What was interesting is that I was majoring in Communications and Advertising.
Is there anything about your experience before joining Kadence that you feel worth mentioning?
I came to the world of Marketing Research 15 years ago completely by accident. I was lucky to start my journey working for P&G in their Brand and Communications department, working on global programs and taking some time to grasp all areas of research working as a Jr. Analyst. Since then, understanding and positioning brands in consumers' minds has been my passion. Nothing is more gratifying to me than making complex information clear, engaging, and efficient.
What is it about market research that excites you the most?
Design is a lot more than making things pretty. I see myself as a creative person with an analytical mind. I love to apply a WHY and a WHAT FOR to everything I do.
Get regular insights
Keep up to date with the latest insights from our research as well as all our company news in our free monthly newsletter.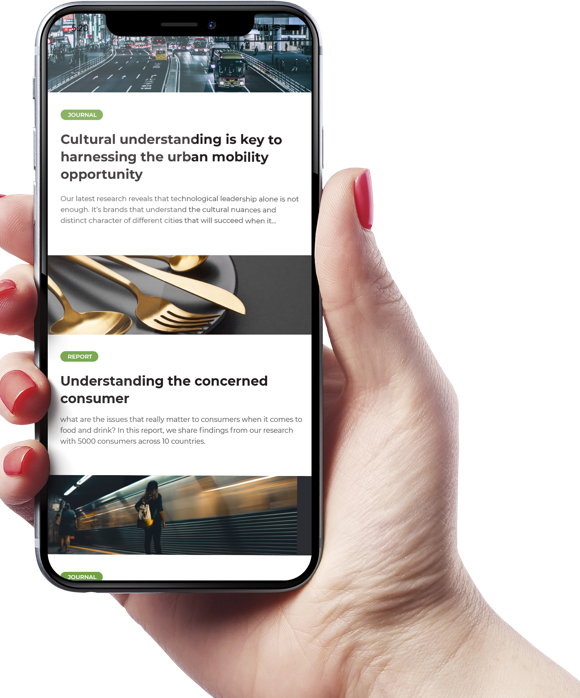 What is it about Kadence's company culture that you like the most?
Kadence allows people to shine. There is always an opportunity to get out of your comfort zone and learn from other departments.
When you were a child, what did you want to be when you grew up?
Not related to what I do at all. I always wanted to be a veterinarian. Unfortunately, I faint when I see blood 🙂
What qualities do you feel are "a must" for anyone exploring a career in market research?
Empathy. I think it is essential to empathize with the consumers/users. And see problems and experiences through the eyes of users. Be open to learning from others and have excellent communication skills.
What piece of advice would you give someone looking to start a career in market research?
Be ready to do many things outside your work description; you will be working long hours, expect a lot of bumps on the way, and be open to criticism. You will learn and grow from it, and the end result will make the experience worth it.
How have you seen the field of market research change since you started your market research career?
Market Research is way more graphic these days. When I started, reports were data-heavy and not very easy to understand or even interesting for those outside the analytics teams. These days, reports are easy enough to understand and present to marketing departments, creatives, and end-users.
What is it about the field of market research you wish everyone knew?
I would love people to understand that graphics and design are not just making things pretty. It involves KNOWLEDGE. There is always a WHY behind a good chart, attractive packaging, or exciting marketing collateral. Researchers give us that information, and marketers convert that information into compelling content.
Who is your favorite hero, or what is your movie of all time and why?
I'm not too fond of superheroes movies. I am more of a drama queen 😉
The Notebook and Out of Africa are my favorite movies. Love slow descriptive stories, with beautiful photography and a memorable soundtrack!
What is your favorite quote, motto, or favorite phrase?
Life is as good as your mindset.
If you could time travel into the future 10 years, how will market research evolve?
Consumers/users are constantly changing, and because of this, Market research will continue changing with them. I think the future will see more and more observational research using wearables and technology.
What do you like to do in your free time when you are not working?
I love to paint, hike and spend time with my kids.