Over the past few months, COVID-19 has had a significant impact on how we think and behave when it comes to food and beverage (F&B). When lockdowns were implemented in countries around the world, non-essential retailers were closed, dining-in was prohibited, and supply chains were tested. As a result, buying behaviors and attitudes have changed and F&B retailers are having to respond rapidly. Those that are able to act quickly will be able to emerge triumphant past the crisis, with many new strategies remaining relevant even after the pandemic.
As countries are opening up, a common question among businesses is 'what next?' Governments around the world are trialing different measures to reopen the market, while trying to minimize the likelihood of a second wave of mass infections. Businesses are on one hand rapidly trying to adapt to the latest governmental policies, and on the other, thinking about how they should change to cater to a marketplace that in some ways looks very different. We'll explore 3 key trends, with our thoughts on what is likely to stay post-COVID when it comes to F&B:
Consumer behavioral changes
Business adaptability
Unfulfilled consumer needs
'Stay home projects': behavioral and purchasing patterns arising out of having to eat at home
Short term changes
While purchases of luxury products have largely decreased during the pandemic, there was a sharp rise in everyday products. With the closure of physical stores, and restaurants doing takeaway only, more people embarked on different 'stay home projects', experimenting with homemade recipes.
According to social listening data from Circus Social, people in Singapore, Japan, South Korea and Indonesia ended up making more homemade snacks during this period. In China, the sale of egg whisks on online retailer Tmall increased five-fold year on year. In Singapore, essential baking ingredients such as yeast and baking soda were wiped off the shelves in most supermarkets during the first month of the Circuit Breaker, and many consumers looking for alternatives online. This shift has had a huge impact on supermarkets and grocery retailers, forcing them to look for alternative sources of supply and diversifying their supply chain strategy.
The surge in interest in 'stay home projects' has also led to a dramatic increase in the viewership of inspiration channels as well as recipe searches, with Instagram-worthy home café recipes trending on social media shortly after they were posted. This presented opportunities for brands to think about showcasing their products through strategic product placements on these channels. This may not be a novel strategy, but it has become highly relevant given the larger share of eyeballs on these channels during this period. In addition, we see F&B brands offering home cooking meal kits, riding on the wave of 'stay home projects' and engaging with partners to showcase the ease of using these meal kits online.
Long term trends
We believe that many of these trends will persist even after lockdown. More people, including newbies in the kitchen, have found a love for cooking and baking, while homecooked meals have also brought many families closer together. With the increased appreciation towards 'home projects', we are expecting more people to cook at home than in pre-COVID times.
Improving e-commerce channels and offline-to-online services will be also important to meet the needs of consumers in the future. F&B retailers will need to up their e-commerce game. While brick and mortar stores will still remain relevant in the post-pandemic world, this period has shown the importance of having a strong e-commerce presence and robust supply chain. Consumers will become more used to shopping for groceries online, especially for products that they cannot typically find in the brick-and-mortar stores. If F&B brands want to extend their reach to a wider audience through e-commerce, the time to do so is now.
Get regular insights
Keep up to date with the latest insights from our research as well as all our company news in our free monthly newsletter.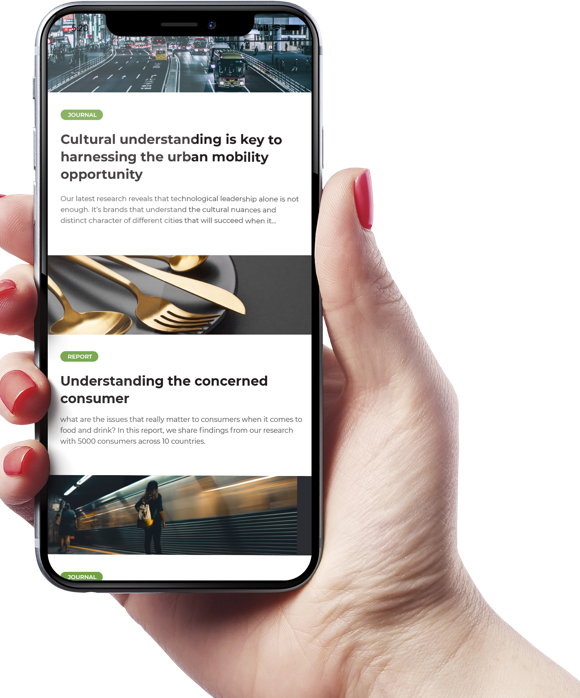 Adaptability: the virus has become the catalyst for tech and sales model evolution for F&B retailers
Short term changes
With every crisis, there is opportunity. COVID-19 has accelerated the evolution of the food retail space, and retailers are adapting in order to realign with the shift in purchasing priorities and new lifestyles.
When bubble tea stores were mandated to close during the Circuit Breaker in Singapore, some partnered other restaurants to continue their sales. Some cafes offered coffee subscription plans for the caffeine-deprived, and others introduced 'Circuit Breaker meals' to go along with their drinks. Restaurants that were limited by physical space, or located in less accessible areas, are now able to be on a more level playing field with other restaurants, as long as they have presence online and support home deliveries.
For some brands, the pandemic had a positive impact on their business as they discovered new opportunities online. More consumers got to know some establishments through social media and review sites, meaning that these brands are now able to reach more customers than ever before. However, being able to realize these positive outcomes depended on how fast retailers could adapt to the F&B landscape in lockdown. Whilst some partnered with established food delivery apps such as GrabFood or Deliveroo, others drew on their own staff for deliveries and adopted alternative ways of ordering, such as using SMS/WhatsApp, Instagram messages, or their own websites. During lockdown, consumers were more tolerant of the usability of the platform – instead being able to demonstrate that you were adapting quickly to meet consumer needs was more important.
Long term trends
In the long run, restaurants need to reassess the competitive landscape in order to continue to stand out post-pandemic. Every aspect of the typical sales funnel, such as brand awareness, consideration, and trial, would have shifted due to the purchase behavioral changes during the stay home period. Previously unknown brands may have gained popularity as they reached more consumers' homes. Consumers will also have different assessment standards for restaurants post-COVID, such as hygiene standards. Retailers therefore need to reconsider their USPs to stand out amongst new competitors in the market.
Unfulfilled need: starving for experiences – an area brands can focus on during and post COVID
Short term changes
As the pandemic subsides, will restaurants still retain their delivery model? Yes and no. Less popular food places, and those restricted by physical location or the space required for social distancing may continue to improve their online platforms to expand their reach through deliveries. But, high-end restaurants and cafes may not. While taste is a critical component of the F&B experience, it has to go in hand with the service, the ambience, and even the company while dining in. Psychological research has also shown that the sense of taste plays only a small role in the whole dining experience. It is a multisensorial experience, which can be best presented in the curated setting of a restaurant, with its choice of plating, lighting, background music, and interior design.
Even though there are do-it-yourself packs for bubble tea or cocktails, for most the ambience of eating or drinking out is unbeatable, so F&B retailers will need to consider how they deliver the experiential aspect, whilst social distancing continues, in order to differentiate from other brands.
Medium to long term trends
Post pandemic, consumers who have been starved of in-restaurant F&B experiences will be hungry for these – and may not mind paying a premium. How can F&B retailers tap into this need while keeping in mind the greater expectations for hygiene standards?
Against, this backdrop, there's an opportunity for F&B outlets to increase and monetize service personalization. Having more attentive service, customizable menus and dishes, or even food that can 'interact' with the diner – basically things that cannot be recreated at home – can be considered by F&B retailers.
You might also be interested in