Journaling or writing in a diary is an age-old process researchers use in qualitative research to become familiar with the participants before a focus group. While this methodology helps capture deep insights from people's daily lives, it is a time-consuming and laborious process.
So how do you get rich data and insights without going through reams of paper?
Get regular insights
Keep up to date with the latest insights from our research as well as all our company news in our free monthly newsletter.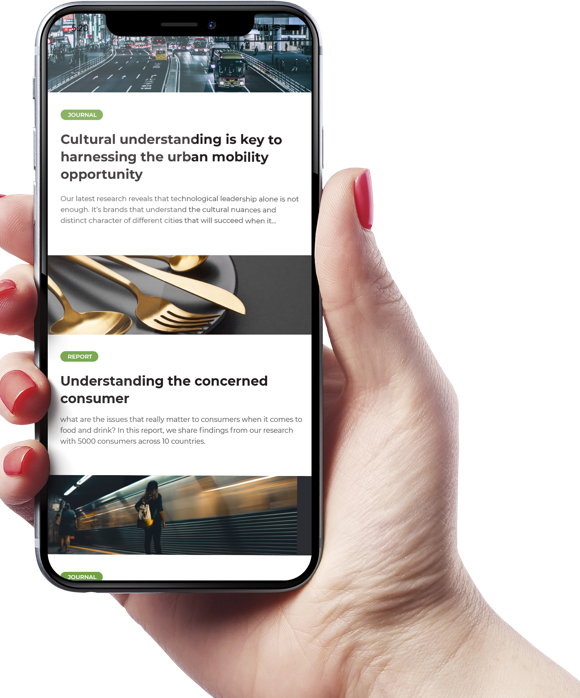 What are mobile diaries?
As the name suggests, a mobile diary is an online qualitative research tool that enables researchers to gather data from respondents via a mobile-friendly format like an app, email, or text over an extended period.
In most cases, researchers ask users to complete a pre and post-survey to gauge changes in perspectives before and after the mobile diary surveys.
How do mobile diaries work?
Mobile diaries ideally work in small groups of preselected participants, and typically, here's what the process looks like:
The market researcher selects a smaller group of participants from the online survey panel and sends them instructions.
Participants use a mobile diary tool to upload photos and videos about their perceptions, attitudes, feelings, behaviors, and daily lives.
Researchers review and interpret the data for insights.

Mobile diaries are a time-saver for market researchers
Mobile diaries allow market researchers to collect and process more responses than traditional methods like paper journaling.
But this is not all; there are many other advantages of mobile diaries in market research over traditional methods. This tool allows market researchers to collect highly personalized, reliable, and accurate data. Additionally, participants can effortlessly share photos, videos, audio, and text, so researchers capture the emotions behind behaviors and attitudes.
This information is not easy to capture through traditional diaries or journaling as people won't always have a pen and paper to jot things down but (almost) always have their mobile phone on hand.
Three reasons mobile diaries are a better alternative than traditional methods and tools:
Record "in-the-moment" responses
Mobile diaries provide qualitative data that allows researchers to peel through the layers and record the respondents' experiences when interacting with or using a product. For instance, when researching a particular meal kit service, the researcher can frame the questions to gain valuable information and insights into who they are, what they do, who they are with, and how they feel, so there is a context to the story. Mobile diaries, therefore, bring researchers closer to their users' daily lives.
Reduce the time, money, and effort

Mobile diaries improve efficiency by reducing the cost of printing and distributing surveys. They save researchers time as they don't have to work through reams of paper.
Enhance productivity
They provide the researcher with the tools to review the results in real-time and enhance productivity and efficiency.
The difference between a Mobile Ethnography and a Mobile Diary
A Mobile Ethnography is a qualitative research method that allows users to respond to research questions and share information using an app on their phones.

Therefore, a mobile ethnography enables "in-the-moment" responses and real-time tracking, reviewing, and moderating like a mobile diary. It also captures emotions and has the shareability factor. Mobile ethnographies can be used to evaluate user behavior and response to advertising messages.

However, unlike a mobile diary, it lacks desktop capabilities, which limits the use of mobile ethnographies. In addition to responding to online surveys, mobile diaries enable users to log in to a desktop and participate in surveys, discussion forums, and focus groups.

These additional engagements can be invaluable for market research and provide rich nuggets of information to market researchers.

When should you utilize mobile diaries?
Mobile diaries are invaluable when collecting contextual and qualitative insights for market research.
For instance, a mobile diary would be a good tool for researching the buying behavior of working moms aged 30-45 years.
Mobile diaries can present broad or targeted information depending on the nature and scope of the market research study.
Mobile diaries are widely used for:
Demystifying user behavior such as online shopping habits.
Understanding user experience and interpreting user interactions with a website, product, device, or app.
Understanding how people search for and share information online or on specific topics like adopting a rescue animal.

Four examples of the use of Mobile Diaries in Market Research:
Use case 1
A grocery store brand wants to collect meaningful data on consumer experience. The researcher recruits a select group, and they have to enter their experience in a mobile diary every time they visit the store.
Use case 2
A juice brand wants to learn more about its customers' habits. They use mobile diaries to collect insights on when their customers drink juice, their favorite flavors, and other ways they use juice, such as in cocktails.
Use Case 3
A high-end shampoo brand is rebranding and has new packaging. A select group is asked to answer questions regarding the packaging, dispenser, look, and feel of the packaging and the product.
Use case 4
A meal delivery service has launched an app and wants to test the user experience. A select group of people uses a mobile diary to answer questions on how easy it is to navigate and the overall experience.
Challenges presented by mobile diaries in market research
Like all good things, mobile diaries also present some challenges, like:
It can become an annoyance for the respondents with too many notifications or alerts.
Data privacy issues
Long surveys
Not enough incentives for users
Market researchers can overcome these challenges by setting up surveys to make things easy for the respondents. They should also take the steps needed to protect user privacy. It is also essential to recruit the appropriate group for any study and incentivize them to complete the surveys.
In a world of smartphones and connectivity, mobile diaries are a great alternative to traditional methods.
Smartphones are commonly used, and most people always have their phones on hand. Therefore, mobile diaries are a great way to gain valuable and qualitative insights from consumers as they are always within reach. They provide in-the-moment information regarding behaviors, attitudes, perceptions, and changes over an extended time.
Market researchers can provide rich insights that facilitate better decision-making with real-time qualitative feedback. A mobile diary is easy for respondents to share more authentic and reliable information through images, videos, audio clips, and texts.