We all complain about our daily commute. But have you ever wondered how it compares to others around the world?
Our new research, with over 5000 commuters worldwide, lifts the lid on global commuting patterns, unpicking the differences across countries and revealing new opportunities for brands.
We explored commuter behaviors in 13 cities which closely match our global footprint: London, Singapore, Shanghai, Jakarta, Manilla, Ho Chi Minh City, New York, Los Angeles, Hong Kong, Mumbai, Delhi, Tokyo and Berlin. So what did we discover?
1. If you're looking for a short commute, set your sights on Los Angeles.
Our research found that commuters in Los Angeles have the shortest commute from home to work, with an average journey time of 31 minutes. Commuters in Mumbai spend the most time travelling – with an average commute of 49 minutes.
2. Citizens in New York and Jakarta display similar attitudes towards public transport. In both cities, almost a quarter of citizens refuse to consider public transport as a means of commuting
In the US, driving reigns supreme. Commuters in Los Angeles are the most likely of global commuters to drive. With 83% using their own car at least three times a week, it's the most popular mode of transport. In New York too, the majority of people commute by car – so much so that a quarter of people say they refuse to consider public transport.
In Jakarta, attitudes towards public transport are similarly disparaging. Here, motorbike is the most popular mode of transport, with 61% regularly commuting in this way.
In Tokyo, public transport gets more of a look in, with 65% commuting by train and only 13% using their own car (compared to an average of 48% globally).
Get regular insights
Keep up to date with the latest insights from our research as well as all our company news in our free monthly newsletter.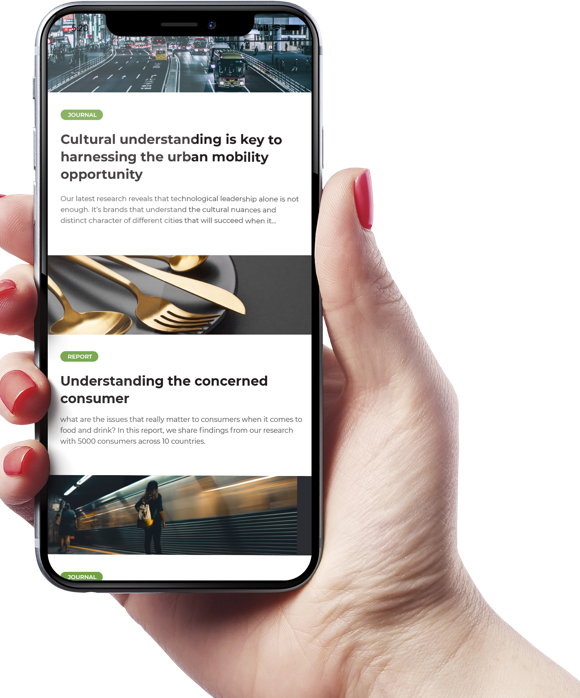 3. Commuting time is "me time" but this plays out differently across different markets
Many consumers see commuting time as time for themselves where they're able to take part in activities uninterrupted. But what people do on their commute differs from country to country.
In Mumbai and London many commuters use the time to work. Londoners are three times more likely to work during their commute than those in Hong Kong where only 5% catch up with work whilst travelling.
The research also revealed opportunities for brands to reach consumers on their commute in particular markets. In Mumbai, almost a quarter of people (24%) use their commuting time to shop online. Commuters in Singapore and London are also keen shoppers, with 21% and 15% respectively doing this on their commute. The data for Jakarta provides a vastly different picture – only 5% of commuters use their travel time to shop.
The research also reflects the sophisticated levels of infrastructure available in Eastern countries. 68% of commuters in Hong Kong browse the internet or check social media updates during their commute, a figure that drops considerably in London where only 41% surf the internet on their way to work.
Want to understand more about commuting patterns across the globe? Get in touch with your local office and we'd be happy to take you through the full research findings. You'll discover the key trends in your market, the new mobility concepts which consumers are most excited about and the brands that they expect to dominate the future of travel.
You might also be interested in