Free report
Harnessing online research methodologies – best practice guide
.
New research from Kadence International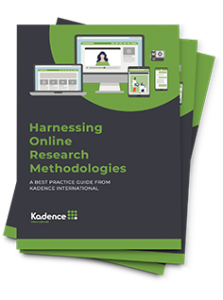 As opportunities for face-to-face research become more limited, many of our clients are asking us about online research. What methodologies are available? What are the use cases for each? What are the best ways of using each tool?
To help, we've produced a best practice guide, filled with helpful suggestions and pointers from our extensive experience using these tools on a range of client projects.
The guide covers:
Online communities
Digital depths
Digital methodologies