Free report
How to run workshops that turn insight into action – best practice guide
.
New research from Kadence International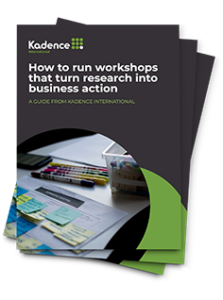 Insight professionals are coming under ever increasing pressure. As budgets shrink, our industry is being challenged to demonstrate the power that research brings. So how do you ensure that the research you commission moves your company to action, creating competitive advantage and growth for your business?
Workshops can play a key role in this process.
Our free guide outlines:
The 7 core elements of any successful workshop
How to prepare and run an effective workshop
Practical workshop exercises that you can take away, apply to your business and use to ensure that your research really does drive business change