Free report
How to get the most out of your research budget – best practice guide
.
Best practice guide from Kadence International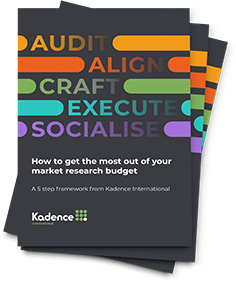 How to get the most out of your market research budget
As businesses seek to understand and respond to changes in consumer behaviour brought about by the pandemic, market research is more important than ever before. But after a tough 2020, many marketers are having to do this on tighter purse strings.
This framework outlines 5 key steps marketers and insight professionals can take to maximise their market research budget and deliver value to their stakeholders.