Free report
How to conduct online research in Asia – best practice guide
.
New research from Kadence International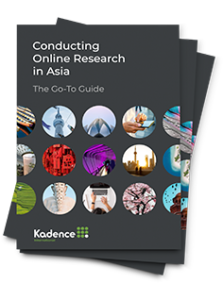 In most countries across Asia, face-to-face has long been the dominant form of market research – and this is likely to be the case for some time to come. But in the wake of COVID-19, online is coming to the fore, opening up new opportunities for those looking to conduct research in the region.
To equip our clients with the knowledge and tools to execute online projects successfully, we've produced this best practice guide. We've drawn on local market experts across our 8 offices in Asia to share their knowledge.
Our experts across Asia will share
The feasibility of online research in each country
The cultural considerations you need to bear in mind when selecting a methodology and designing a study to set it up for success