Free report
Which behaviors will stick and which will subside in a world without restrictions? Report
.
New research from Kadence International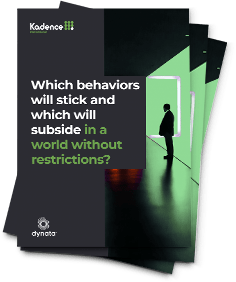 Which behaviors will stick and which will subside in a world without restrictions?
It's inevitable that we'll see lasting behavioral change as a result of COVID-19. But determining which of the behaviors adopted during the pandemic will stick and which will disappear once restrictions come to an end is less clear-cut. According to a survey of CMOs by Dentsu, this is the number one challenge keeping senior marketers awake at night.
This report draws on the findings of a new Kadence study powered by Dynata with 3,000 consumers in 10 markets (China, Japan, India, Singapore, Indonesia, Thailand, the Philippines, Vietnam, the UK and the US) to:
Separate the long-term trends from the short-term fads, revealing the behaviors we believe will be retained post-COVID-19
Shine a line on the opportunities and challenges these behavioral shifts present for brands
Determine which products and services will need to be adapted to see sustained behavioral change, taking inspiration from countries where new trends have taken hold
Provide you with the tools and an approach to predicting future behavior that you can use in your own business