Free report
Towards a new business world – Exploring the priorities of APAC's business decision makers – past, present and future
.
New report from Kadence International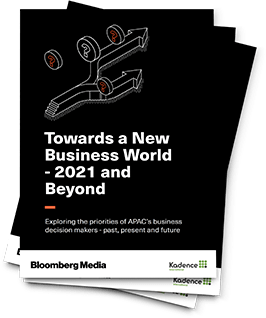 Towards a new business world – 2021 and beyond
2020 saw one of the biggest shocks to the global business community, with Covid-19 creating unprecedented challenges for organizations across the world.
We supported Bloomberg on a program of research with business decision makers across APAC from April 2020 to February 2021. From the immediate aftermath of the outbreak to the economic reopening and beyond, we've been with business decision makers at every step of the way.
Read the report to understand how business decision makers' priorities have evolved during the pandemic. You'll get an unrivaled insight into how organizations adapt in the face of uncertainty and learn about the key trends, challenges and strategic focus areas for the future.