Free report
[Free Report] About Face: Emerging global trends in the beauty and cosmetics industries.
.
The beauty, personal care and cosmetics industry is thriving.
Thanks in part to an increased "on camera" world, people of all ages want to look their best.
This report looks at the industry from around the world, highlighting trends from Asia, Europe and the Americas.
Download this free definitive guide and discover: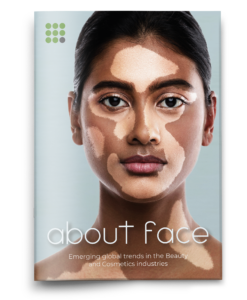 The evolution of beauty.
Worldwide beauty market size.
Facing the online world of e-commerce.
How technology is giving beauty a facelift both
online and offline.
A new generation of direct-to-consumer (D2C) brands is
disrupting the market.
The rise of beauty subscription boxes.
Diversity and inclusion in the beauty industry.
How men's beauty products are shaking up gender stereotypes.
Beauty for all. The advent of genderless beauty brands.
Riding the Korean beauty skincare wave.
Cannabis Beauty.
Ingestible skincare.
Beauty with a Conscience. The era of sustainable brands.
The eternal quest for youth and the anti-aging market
Beauty services and cosmetic procedures are becoming
The hair care market is booming and still has headroom to
grow further.
Beauty is a beast. The beauty sector in a nutshell.