Free report
Riding the next wave of change – 4 trends that will define 2020
.
New research from Kadence International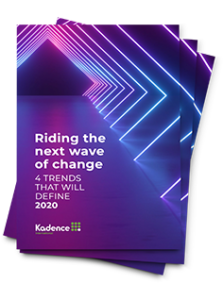 What does the year ahead hold? We brought together trend watching experts from across our global boutique to identify four key trends that we believe will define the next 12 months, inspiring innovation across Asia, the US and Europe.
We'll investigate each of these trends in turn, looking at what's happening now, the brands leading the charge and what you can do next, as we help you ride the next wave of change.
Explore the trends
The shift towards 360 degree wellness
Personalisation reaching a new frontier as it moves offline
The move from brand purpose to purposeful design
Consumers are left craving connection